Villa Miami
Venetian Islands, USA
This eclectic villa is located in the Venetian Islands, an exclusive archipelago in Miami, near Miami Beach. A unique location with a tropical atmosphere that reflects an idyllic and welcoming lifestyle.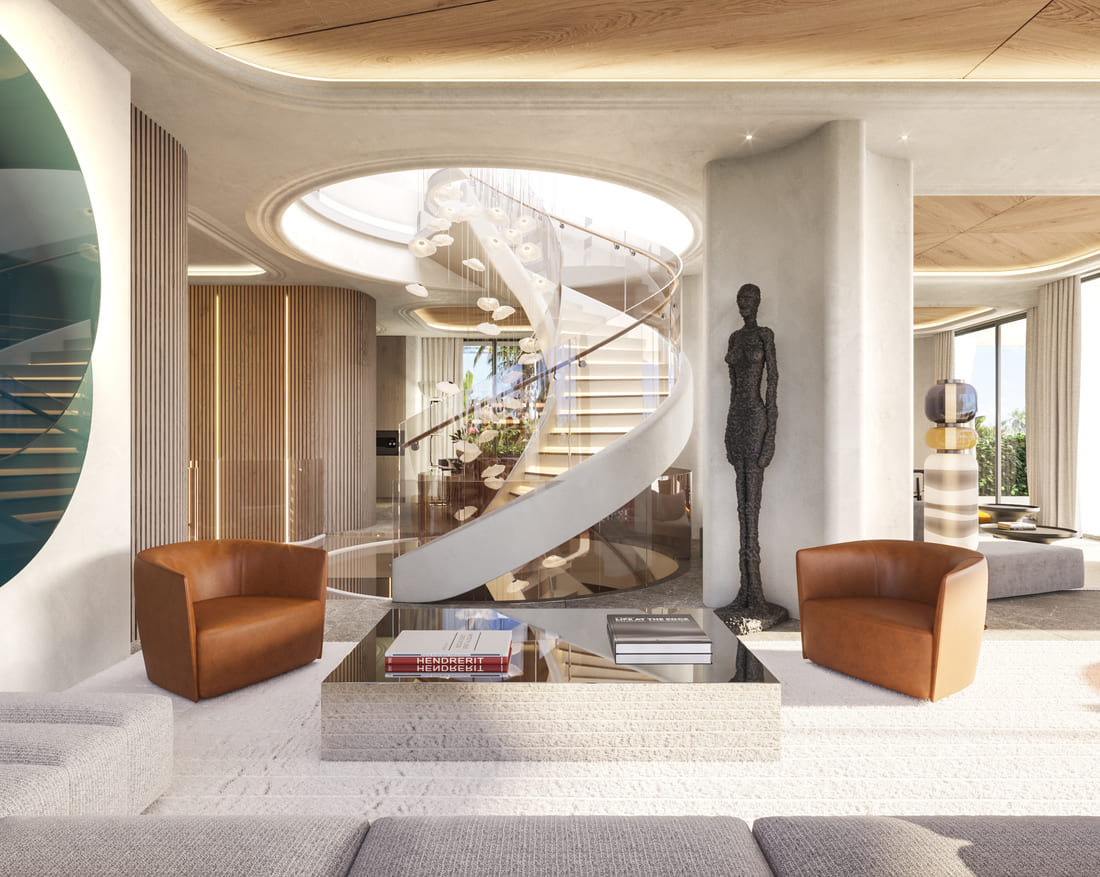 An ideal home, transformed into a personalized refuge
Villa Miami consists of two exterior environments which, thanks to the impressive swimming pools and relax spaces, become the main protagonists of the house. A chill out area, a bar counter and an outdoor dining space are some of the unique features of this villa, ideal for enjoying the outdoors with family and friends.
The curious entrance, a tunnel covered by one of the pools, welcomes a three-storey villa that extols the luxury and warmth of the city. Inside, a glass-enclosed corridor through which you can see the floor below, is an open space full of natural light which acts as a hall leading to the different rooms.
For this project, in order to unite the different floors with fluidity, a spiral staircase has been created. An architectural element focussing on connection and extolling the contemporary style of the Villa. In the stairwell, you can admire an imposing hanging lamp that defies the expectations of those who contemplate it, giving rise to light compositions that are reminiscent of clouds and seem to float upwards.
Utility and aesthetics hand in hand with design
Furnished in orange tones that are mixed with neutral colours, all the rooms are endowed with a special character created for the personality of its inhabitants and designed to improve their lifestyle. The rooms have been designed in a minimalist and contemporary style with a few touches of colour, in furniture, art pieces and decorative elements. From the master suite you can access the terrace from where you can admire the panoramic views of the Miami skyline.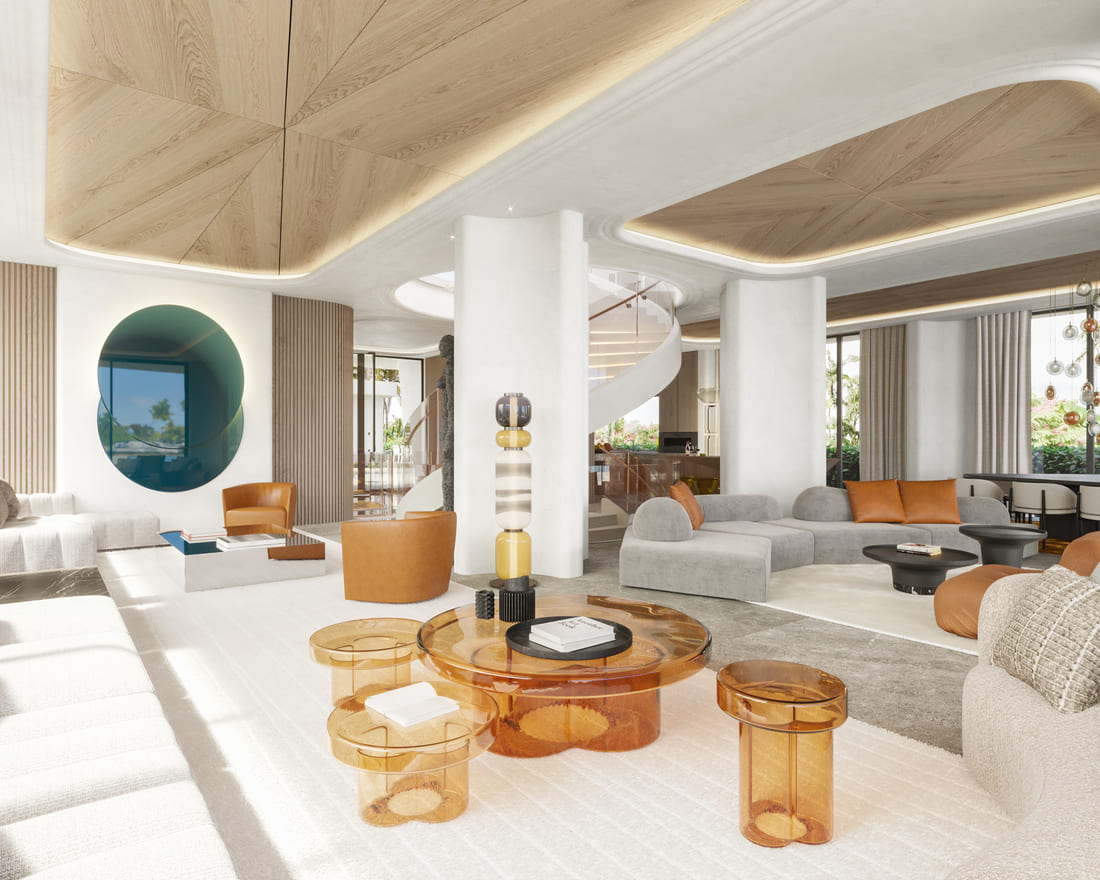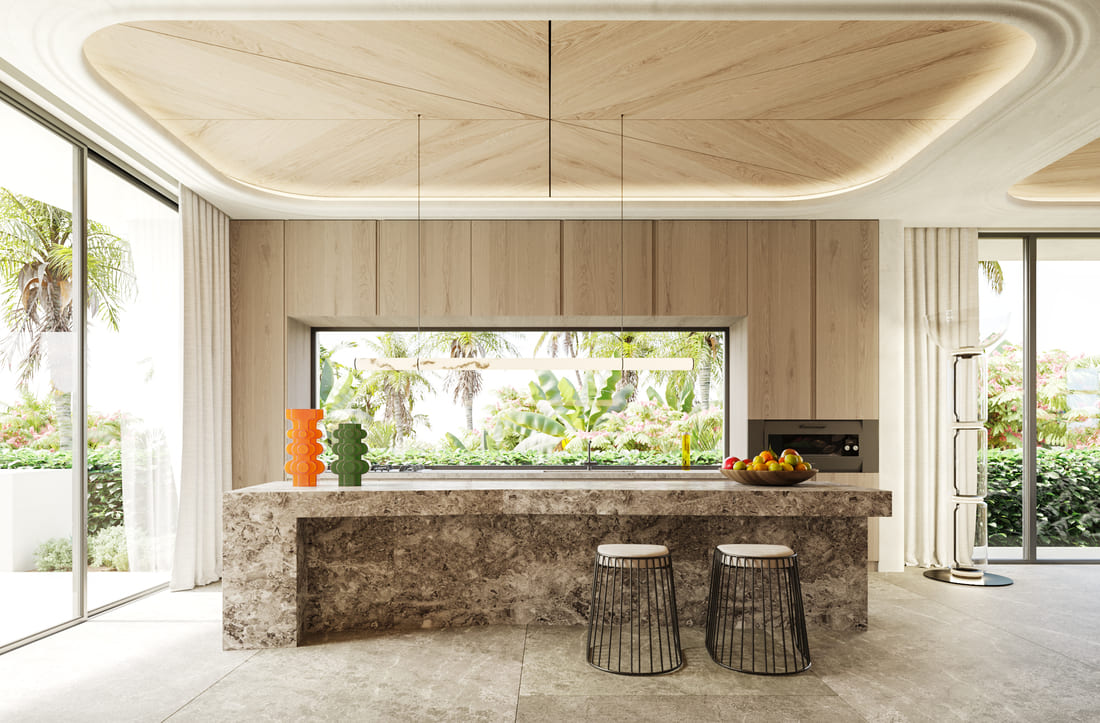 The kitchen forms a multifunctional and more casual space. Its dark marble table and walnut island explore the architectural possibilities of utility and aesthetics, at the same time forming an admirable contrast between classic and more contemporary design.
A villa with a great personality
The Villa Miami project also has interior day areas such as the living room and dining room. The rooftop, designed following the global aesthetics of the house, is created to be enjoyed in company and to extend life outdoors. In addition, the basement has a spa and water areas, intended for maximum well-being.
Villa Miami also has a private pier, with access to Biscayne Bay, thus allowing the house to be reached from the sea. An ideal home, converted into a personalized refuge, to enjoy one of the most cosmopolitan and exclusive cities in the world.
In partnership with Domo Design Studio.