Casa da Rocha
Algarve, Portugal
At LUV we believe contemporary luxury is based on the fundamental pleasure of living a type of luxury that does not focus on the external, but rather on inner satisfaction and well-being. These principles have guided the whole design process for this house 'Casa da Rocha', which stands in the natural cliff and ocean landscape of the Portuguese Algarve.
The fundamental pleasure of living outdoors
The sustainable house is attained through balancing the local architectural tradition and contemporary construction solutions, to ensure a respectful intervention yet a contemporary luxurious lifestyle outcome.
As are most of the coastal properties, the house is facing wide open to the south, giving priority to the wonderful Atlantic.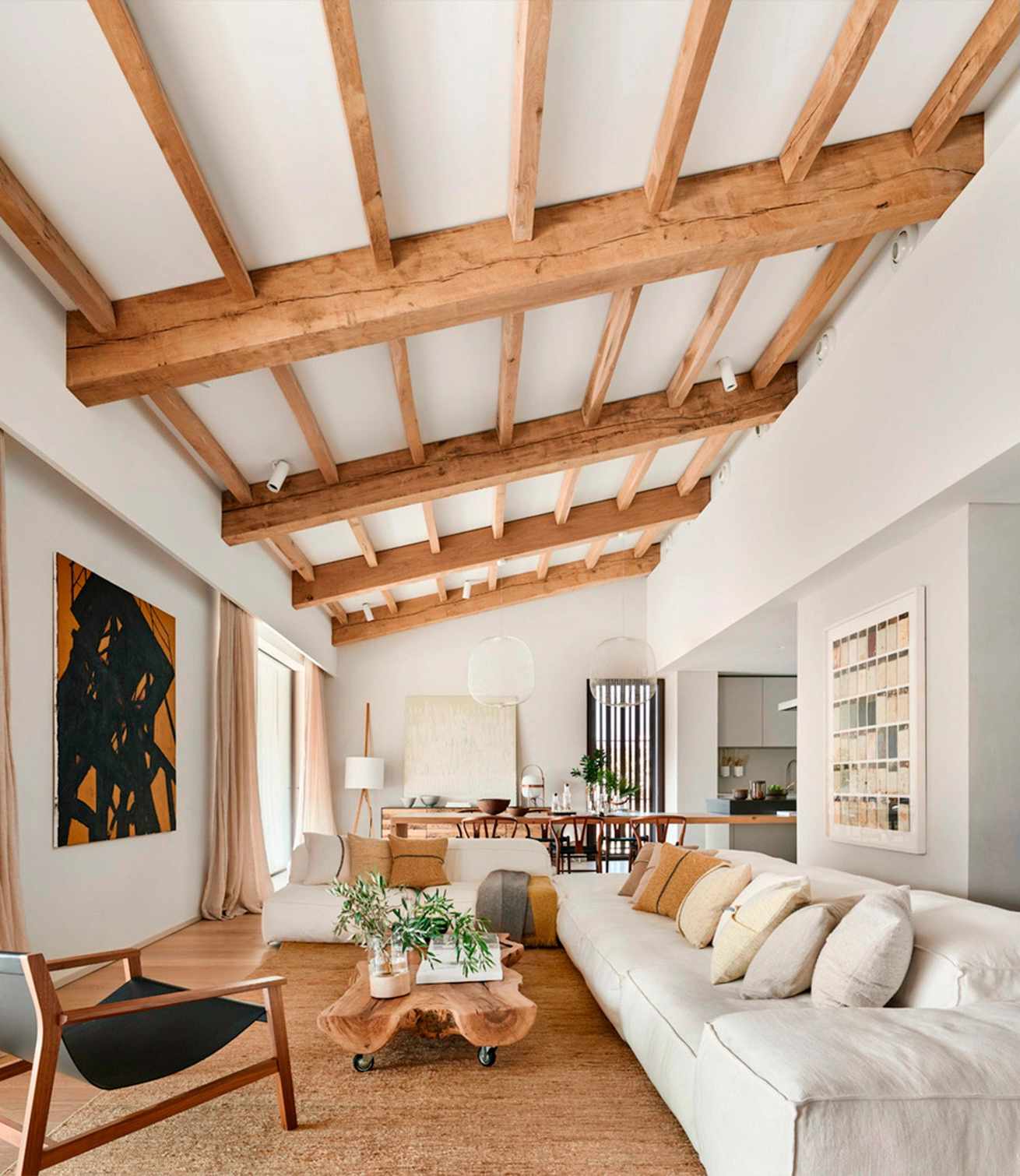 Architecture and interior design at the service of design
Its east and west facades are featured in dry stone walling, framing selected views, protecting from the predominant winds, and granting privacy with its surrounding neighbours.
White sloped roofs, ensure a coherent integration into the surrounding traditional architecture, whilst bringing hierarchy between main and secondary inner spaces, adding height to bedrooms and living areas and ensuring that the pleasure of proportioned spaces is achieved.
Tactile natural materials and decorative elements are present throughout the ample interiors providing a sober and elegant décor. Local stones and oak woods have been used for indoor and outdoor paved areas, ensuring a most comfortable feeling.
The luxury home open plan design of the living, dining and kitchen spaces is communicated by a 12 metre oak and granite featured table, perfect for family life and entertaining friends.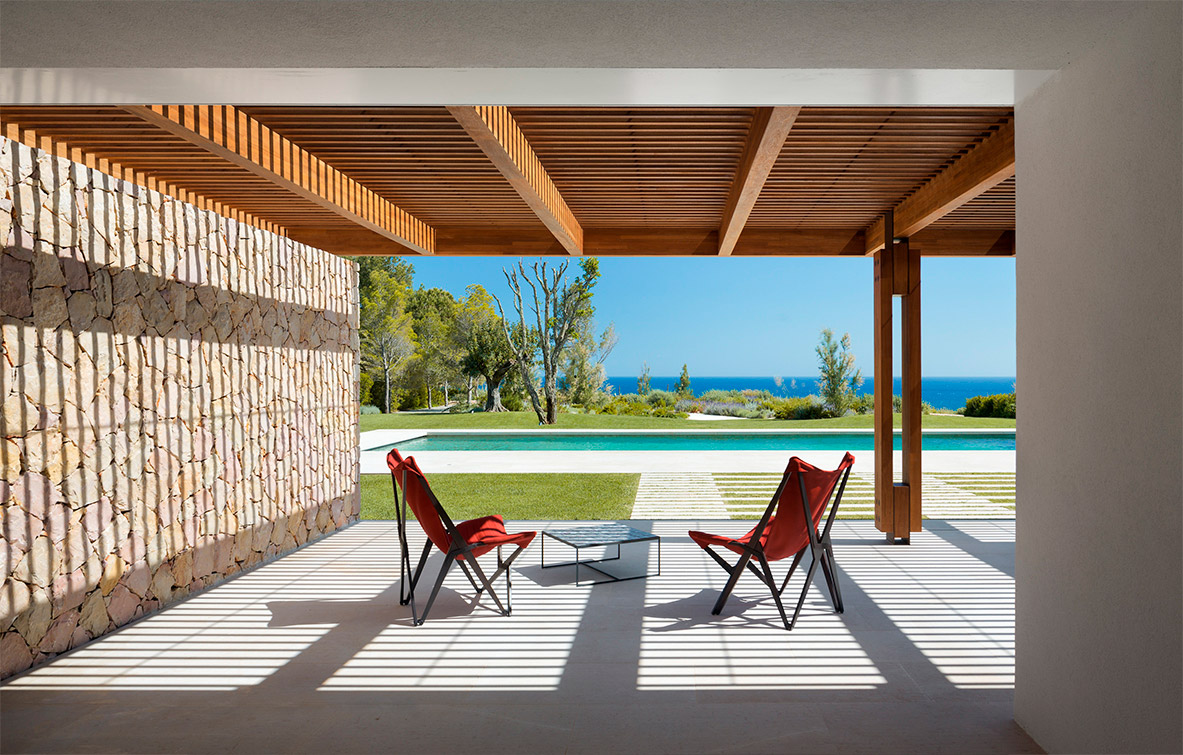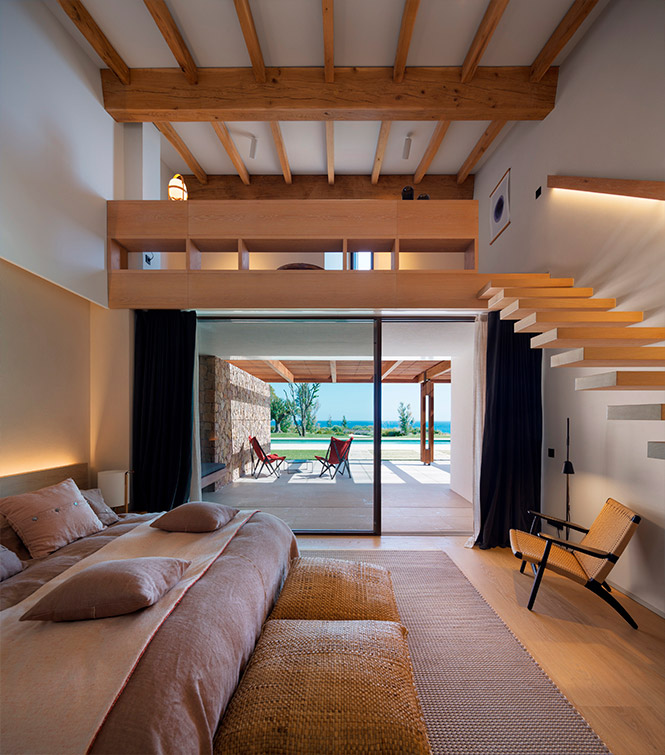 Interiors and exteriors with continuity to enjoy all year round
At LUV we are particularly obsessed by the integration of nature into the spaces we create. Given that 90% of the summer period one wants to enjoy the climate and spend most of the time outdoors, we always enhance solutions such as completely hiding all doors and windows into pocket walls, and extending interior pavements into the exteriors, promoting large indoor/outdoor living, dining and entertaining areas. Native flora has been carefully selected to merge the landscape into its surroundings and the private access to the beach.
The whole design is passive, taking advantage of the architectural geometry and land implantation to ensure maximum solar protection in the summer period and maximum daylight in the winter time, making sure the use of materials promotes this to happen efficiently, and ensuring the use of 'active' systems that consume energy is limited (or completely unnecessary). Sun protection brought us the opportunity to design the projected playful 'shadows' on walls and floors, adding great character and uniqueness to the 'Rock House'.